Jadis the White 

Witch
Jadis is an ancient being who has turned Narnia into a frigid and cold place – always winter, but never Christmas.
She is actually the sole survivor from another world named Charn, where she destroyed all life by uttering a magic spell known as the Deplorable Word. She found her way out of this world and into Narnia at the time of its creation in the prequel book, The Magician's Nephew, and has been a danger ever since.
Jadis is powerful, manipulative, and absolutely ruthless. Alongside her servants the Dwarf, and Fenris Ulf, the White Witch is determined to continue Narnia's Long Winter forever…Will they succeed?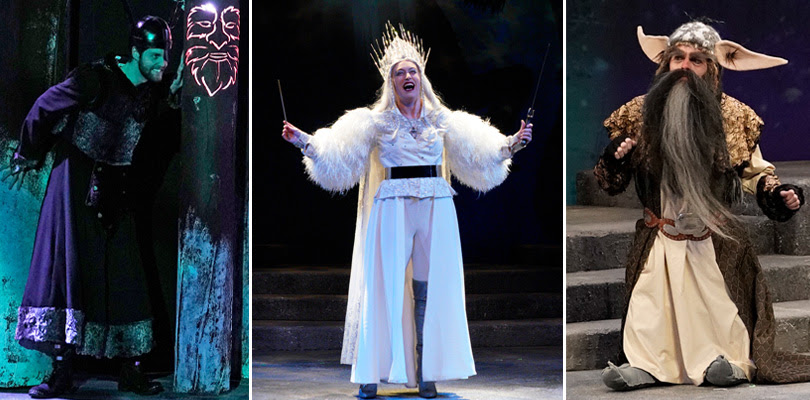 ---
THE LION, THE WITCH AND THE WARDROBE
Adapted by Joseph Robinette
Based on the book by C.S. Lewis
Directed by Artie Olaisen
April 3 – May 15, 2022
Ages 7 and up
One of the most celebrated books in children's literature and the #1 most requested DCT play returns to the stage to create a remarkable world of magic. Join young adventurers Peter, Susan, Edmund, and Lucy as they step through the not so ordinary wardrobe and into the mythical land of C.S. Lewis' Narnia. Facing fantastic creatures and fierce battles in the heart and on the land, the four siblings must find the courage to battle the treacherous White Witch in order to end the deadly eternal winter in the beautiful forest. Guided by the all-knowing Lion, Aslan, these discoverers learn to cast aside their own fears to find the heroes within themselves.
Saturday, May 7, 4:30PM
Sunday, May 8, 1:30PM
Saturday, May 14, 1:30PM
Saturday, May 14, 4:30PM
Sunday, May 15, 1:30PM
Sunday, May 15, 4:30PM
photo credit: Karen Almond